Westland's biggest manufacturer of greenhouses
Voskamp & Vrijland evolved from NV Aannemersbedrijf Boers & Vrijland, a carpentry company that had focused on the construction of home and auction houses and single frame structures since 1949. Over the years, the company expanded and became Westland's biggest manufacturer of greenhouses, conservatories and single frame structures.
The company name changed with the departure of Mr Boers as Executive Board member in 1963: Voskamp & Vrijland was born. Under the leadership of Messrs Voskamp and Hofland, in the first twenty years of the company's existence around 1,450 ha of greenhouses were built in the Netherlands, besides the production of boilers (Bruna) and greenhouse heating systems. This corresponded to around a third of the total greenhouse area in the Netherlands.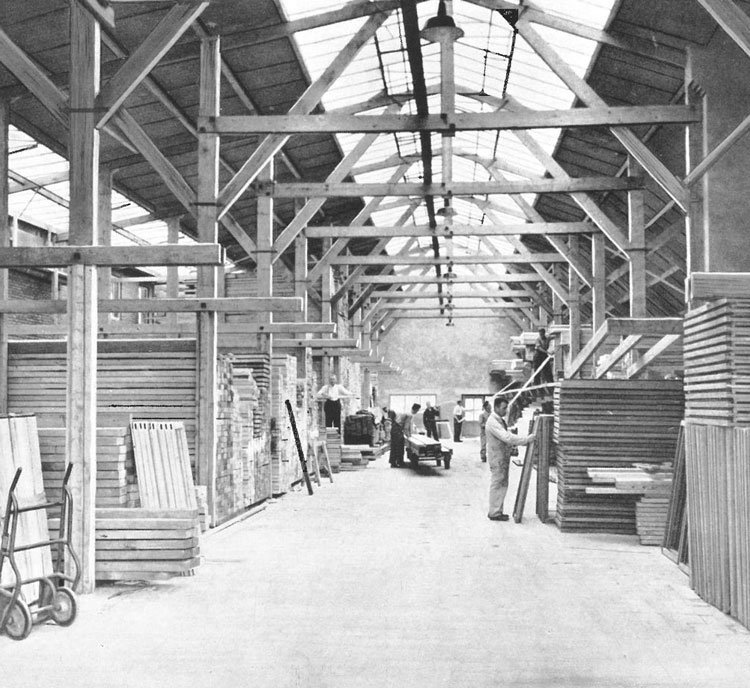 A committed employer
To manage the huge production volumes, the Voskamp & Vrijland management did everything possible to safeguard product continuity and quality. It was vitally important to retain personnel for a long period of time. So Voskamp & Vrijland established good housing for factory workers in the immediate vicinity of the timber factory, contributed to the establishment of a local primary school and demonstrated strong commitment to the local church community and associations, including through sponsorship of sporting and other events.

Voskamp & Vrijland developed into an international greenhouse builder in the post-war years
The bankruptcy
Displaying a typical Westland attitude and boldness, they were extremely pioneering in the early years, far beyond our national borders. For example, Voskamp & Vrijland constructed greenhouse systems in England and France, as well as in Romania and Bulgaria. In total, around 905 ha in greenhouses were built abroad at that time.
Parties in the former Soviet Union were also interested and purchased large Westland greenhouses. If these parties lacked hard cash, the greenhouse was purchased in exchange for vaguely related products, such as oil or train carriages filled with horses. However, such payment methods were not without risk. With the collapse of the greenhouse market at the end of the 1970s, this bartering ultimately led to the bankruptcy of Voskamp & Vrijland in 1985.