Hordijk was founded in 1916 by Groeneveld Hordijk: a carpenter who started his own company in Berkel. He started modestly with general carpentry, but the war necessitated the replacement of iron shed and storehouse roofs, so Hordijk expanded his activities. Through his work, Groeneveld Hordijk met many local farmers and horticulturalists and he started developing frames and parts specifically for greenhouses.
The young company flourished and new employees were recruited. In 1922 Hordijk began producing wooden crates for the vegetable auction in Berkel. Groeneveld Hordijk built up a good reputation and was considered a reliable supplier of specialised wood solutions for growers in the area. By 1929, the company had ceased its general building activities and concentrated on the horticulture sector.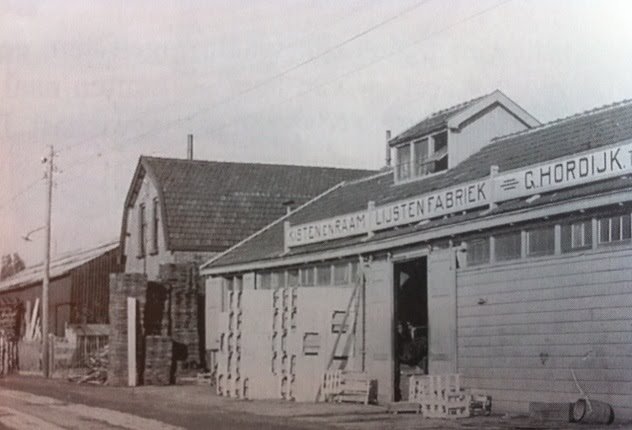 A reliable horticulture sector supplier
The Hordijk company became a reliable horticulture and agriculture sector supplier in the heart of Westland, first in Berkel and later in Delft. Besides wooden crates, greenhouses and other buildings, over the years the company also developed a series of food industry packaging solutions for growers and farmers in the area.
In around 1955, the company streamlined production so that it could offer a total package to the horticulture sector. In the 1960s, this led to the delivery of the first steel units, cleaning equipment, pipes and heating systems. And later to the establishment of the Aluminium Constructie Maatschappij, together with greenhouse builder Voskamp & Vrijland. This enabled the range of horticulture solutions to be expanded to include aluminium greenhouse systems.

The merger of Hordijk and Voskamp & Vrijland resulted in the formation of Alcomij, completing the range of horticulture solutions
A modern family company
The significant expansion resulted in Hordijk developing in the 1970s into a modern and diverse company with a sound reputation based on quality and fairness. In the subsequent years, the family company expanded into a leading producer with subsidiaries specialising in thermoform packaging, Airpop® packaging and insulation products, injection moulded packaging, bottle blowing, steel structures for greenhouses, aluminium greenhouse systems and solutions in cultivation logistics. With over 400 employees and a turnover of around a hundred million, Hordijk became one of the top Dutch manufacturing companies.